Side by Side Ministry is about Prayer Partnership. When you sign up, you will be randomly assigned a partner that you will pray with once a week for 10 weeks. We call the 10 weeks, "cycles". During these cycles, you and your partner will set up a time to call each other and pray. At a minimum these calls last about 10 minutes. You will be amazed at the wonders it will do to not only pray for someone, but to have someone pray for you.
Registration for the next cycle closes on July 1, 2022
Side by Side is a prayer partner ministry that began in the Fall of 2016. The mission for this ministry is to help strengthen individual prayer lives and create bonds between members by bridging the generational gap.
About the leaders
Anjali Christian
In the summer of 2016, I was traveling in India when I met with an elderly church member who was also visiting. Although far from home, from the familiar- we spent one evening talking to each other when she scratched the unfamiliar. She shared how she felt about church and her faith with me. In our discussion, she expressed that she understood the church is for young people, but she felt it was no longer for the "young at heart". The more we spoke, the more I realized that there was a disconnect between the generations- the disparity was growing larger and it became more evident as we continued our discussion. When I returned home- to the familiar, I reached out to Carol about starting a prayer ministry group that focused on the unfamiliar- creating bonds between the generations. I feel very passionately about this ministry. I believe it is vital for the church family to first know each other in order for us to make Him known. Prayer is a powerful and amazing tool we have been given and my hope is that new bonds may be formed so that as a church family, we may grow closer to each other and to Christ.
Carol Thapa
Initially, I had seen the basic idea of a prayer partnership presented online. I thought it would be great to incorporate this as a part of fundraising for our second mission trip. Unfortunately, that idea was not used for that specific purpose, but the spark was rekindled as Anjali and I decided to take the initiative of bringing it to the church as a whole. I believe prayer is the basis for an intimate relationship with Jesus Christ. It is our form of communication with our God, and it is a true blessing that we have the chance to openly talk to Him wherever and whenever we please. The Lord has personally answered many of my prayers and in my quiet time with Him, I find nothing but peace and comfort. Our idea for this ministry is to not only engage those from various generations but to rejuvenate and strengthen their interpersonal relationships with other church members and more importantly, with Christ Himself.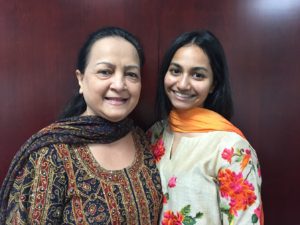 "There's so much of the Side by Side ministry I enjoyed-from the freedom to choose our devotional material to just having someone to talk to about life 🙂
The Side by Side ministry was truly a blessing to me. Being able to pray with someone really enhanced my spirituality, it also gave me a source of comfort to know that someone was praying for me. So if you are debating on whether to join this ministry or not you should because you will truly be blessed.
– Sammy Asir
Personal prayer gives me an intimate relationship with my Best Friend and Savior. But when I pray with someone else regularly, I can give as well as receive emotional support, knowing there is someone always praying for me. United prayer is not just strengthening, but life changing.